Description
For the quickest lock-on and removal ever, just follow these easy instructions.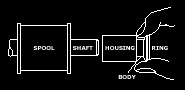 TO QUICKLY LOCK ON SHAFT:
Firmly grasp the ring section of the QUIKLOC collar with your thumb and fingers. Draw it out of the housing. Slide the QUIKLOC collar down the shaft and into position against the spool or reel. Now simply release your thumb and fingers, and you're locked on!
TO QUICKLY SLIDE OFF SHAFT:
Just grasp the ring section with your thumb and fingers. Firmly draw the QUIKLOC unit away from the spool or reel in one smooth motion. The collar will easily release and slide off the shaft quickly and safely. And your QUIKLOC disconnect is complete!
Items Table:
| | | | | |
| --- | --- | --- | --- | --- |
| ITEM | DESCRIPTION | A | B | C |
| | | | | |
| | | | | |
| | | | | |
| QL-6MM | 6MM QUIKLOC SHAFT COLLAR | .875" | .937" | 1.750" |
| QL-7MM | 7MM QUIKLOC SHAFT COLLAR | .875" | .937" | 1.750" |
| QL-8MM | 8MM QUIKLOC SHAFT COLLAR | .875" | .937" | 1.750" |
| QL-9MM | 9MM QUIKLOC SHAFT COLLAR | .875" | .937" | 1.750" |
| QL-10MM | 10MM QUIKLOC SHAFT COLLAR | .875" | .937" | 1.750" |
| QL-11MM | 11MM QUIKLOC SHAFT COLLAR | 1.000" | 1.125" | 1.750" |
| QL-12MM | 12MM QUIKLOC SHAFT COLLAR | 1.000" | 1.125" | 1.750" |
| QL-13MM | 13MM QUIKLOC SHAFT COLLAR | 1.125" | 1.375" | 1.750" |
| QL-14MM | 14MM QUIKLOC SHAFT COLLAR | 1.125" | 1.375" | 1.750" |
| QL-15MM | 15MM QUIKLOC SHAFT COLLAR | 1.125" | 1.375" | 1.750" |
| QL-16MM | 16MM QUIKLOC SHAFT COLLAR | 1.125" | 1.375" | 1.750" |
| QL-17MM | 17MM QUIKLOC SHAFT COLLAR | 1.250" | 1.375" | 1.750" |
| QL-18MM | 18MM QUIKLOC SHAFT COLLAR | 1.250" | 1.375" | 1.750" |
| QL-19MM | 19MM QUIKLOC SHAFT COLLAR | 1.250" | 1.375" | 1.750" |
| QL-20MM | 20MM QUIKLOC SHAFT COLLAR | 1.500" | 1.625" | 1.750" |
| QL-22MM | 22MM QUIKLOC SHAFT COLLAR | 1.500" | 1.625" | 1.750" |
| QL-24MM | 24MM QUIKLOC SHAFT COLLAR | 1.500" | 1.625" | 1.750" |
| QL-25MM | 25MM QUIKLOC SHAFT COLLAR | 1.500" | 1.625" | 1.750" |