Serving Industry Since 1962
Unique, inexpensive QUIKLOC shaft collars slip on or off shafts instantly. They provide a simple, proven and cost-effective way to upgrade winding and payoff operations on wiredrawing machines and a host of other spooling and winding applications. An option already offered by many original-equipment manufacturers, and used in plants worldwide, QUIKLOC is an instant retrofit to prevent lateral movement in virtually any ongoing reel or spool-based operation.
QUIKLOC collars eliminate time-consuming wrenches and set screw collars in the loading and unloading of spools and reels for wire, cable, tapes, braids, tubing, strip materials, etc. In addition to speeding machine set-up time, QUIKLOC collars cut maintenance and repair costs by eliminating chewing and scoring of shafts. There's a QUIK-LOC standard size to install instantly on virtually any shaft from 3/8″ to 2″ in diameter, including metric. Special sizes also available.
Contact us today to learn how inexpensive and easy it is to improve the efficiency of your reel or spool operations with QUIKLOC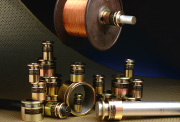 In thousands of applications over four decades of success, QUIKLOC shaft collars have been proven to be not on the best built-in choice for OEMs, but the ideal cost-effective way for manufacturers to upgrade all their spooling and payoff operations.
Put to countless real-time tests every day on high speed wiredrawing machines worldwide and on just about every other spooling and winding application to come into industry QUIKLOC shaft collars provide a highly dependable, instant retrofit that prevents lateral movement in almost any ongoing reel- and spool-based process.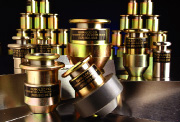 When it comes to low price/high performance ratios, longevity, rugged construction, speed, dependability, minimal maintenance, greatly reduced repair costs, and overall customer satisfaction no one scores higher than QUIKLOC. And we have been earning those high marks for years.
Among the many benefits of QUIKLOC performance seen on the job are true time-, money-, and manpower-savers such as no tools to drop or lose, no need for wrenches and set screw collars in loading and unloading, no scored or chewed up shafts, no downtime from costly disconnects.
Instant Reel and Spool Changeovers for Virtually Every Application Wire and Cable, Tape and Strip, Ribbon and Braid, Fabric and Paper, Hose and Tubing